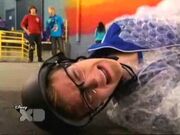 The guys open up a skateboarding camp to encourage kids to take sport and Ozzie enrolls, but shows a lack of enthusiasm. He also shows a fear of getting hurt. Zeke and Luther try to make him realize that getting hurt is just part of skateboarding. Meanwhile, Ginger and Lisa plan a flute-playing competition. Zeke eventually helps Ozzie to overcome his fears, and Ginger and Lisa come to a draw in their competition.
Ad blocker interference detected!
Wikia is a free-to-use site that makes money from advertising. We have a modified experience for viewers using ad blockers

Wikia is not accessible if you've made further modifications. Remove the custom ad blocker rule(s) and the page will load as expected.