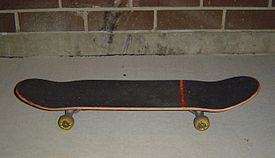 &nbsp

A skateboard is typically a specially designed plywood board combined with a polyurethane coating used for making smoother slides and stronger durability, used primarily for the activity of skateboarding. The first skateboards to reach public notice came out of the surfing craze of the early 1960s, developed to help surfers practice when waves were unfavorable. The first prototypes were simple wooden boards with roller-skate wheels attached, and the practice was sometimes referred to as "sidewalk surfing." The surfing group Jan and Dean even had a minor hit called "Sidewalk Surfing" in 1964. By the mid-1980s skateboards were mass produced and sold throughout the United States.
A skateboard is propelled by pushing with one foot while the other remains on the board, or by pumping one's legs in structures such as a pool or half pipe. A skateboard can also be used by simply standing on the deck while on a downward slope and allowing gravity to propel the board and rider. If the rider positions their right foot forward, he/she is said to ride "goofy"; if the rider positions their left foot forward, he/she is said to ride "regular." If the rider is normally regular but chooses to ride goofy, he/she is said to be riding "switch," and vice versa. A skater is typically more comfortable pedaling with their back foot; choosing to pedal with the front foot is commonly referred to as riding "mongo."
Ad blocker interference detected!
Wikia is a free-to-use site that makes money from advertising. We have a modified experience for viewers using ad blockers

Wikia is not accessible if you've made further modifications. Remove the custom ad blocker rule(s) and the page will load as expected.