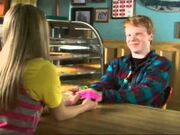 A feud breaks out between the skaters and the "Rollerdorks", a gang of disco dancing roller bladers, when they show up in skater turf, and try to take over "Ramps", the skater's favorite hangout spot as their own. Things only get worse when Luther begins dating one of the dorks. Meanwhile, Ginger uses Poochie's bird to get revenge on Zeke.
Ad blocker interference detected!
Wikia is a free-to-use site that makes money from advertising. We have a modified experience for viewers using ad blockers

Wikia is not accessible if you've made further modifications. Remove the custom ad blocker rule(s) and the page will load as expected.