Not My Sister's Keeper
Season:
1
Production code:
{{{production}}}
Broadcast number:
{{{broadcast}}}
Written by:
Matt Dearborn
Directed by:
Joe Menendez
Broadcast Information
Disney XD US Premiere:
to be announced
International Debut:
to be announced
See more...
When a contest is held at Don's Donuts, the prize is a rare skateboard. But when Ginger goes missing, will Zeke search for her or just try to win the board?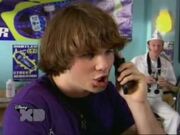 Ad blocker interference detected!
Wikia is a free-to-use site that makes money from advertising. We have a modified experience for viewers using ad blockers

Wikia is not accessible if you've made further modifications. Remove the custom ad blocker rule(s) and the page will load as expected.