Lisa Grubner



Lisa dolling herself up for a potential date with Zeke.

Gender:
Female
Age:
12 (Season 1)


13 (Season 2)
14 (Season 3)

Nationality:
American
Hometown:
Gilroy, California
Friends and Family
Siblings:
Kenny
Love interests:
Zeke Falcone
Lisa is a young, geeky girl who has an overwhelming crush on Zeke. She lives in a large pink dollhouse in her parents' driveway. Her first appearance was in the episode "Donut Jockey." She was twelve years old at the time.
She is crazed by her crush on Zeke and as Zeke states in "Sibling Rivalries," she is not even legally allowed to call his house anymore. A known fact is that she plays flute and does gymnastics. She has an older brother named Kenny.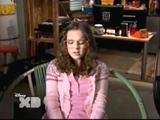 Ad blocker interference detected!
Wikia is a free-to-use site that makes money from advertising. We have a modified experience for viewers using ad blockers

Wikia is not accessible if you've made further modifications. Remove the custom ad blocker rule(s) and the page will load as expected.