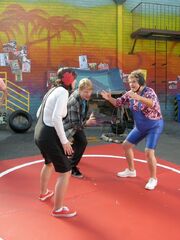 ==
Lie Hard
200px
Season:
3
Production code:
{{{production}}}
Broadcast number:
{{{broadcast}}}
Written by:
Jason Jordan
Directed by:
Gregory Hobson
Broadcast Information
Disney XD US Premiere:
to be announced
International Debut:
to be announced
See more...
Trivia:
==
A Reference to Lemonade Mouth Was Made, Another Film Adam Hicks(Luther Waffles) stared in. Luther had mentioned, "He's a Lover, Not a Fighter." Those Were the Exact Word Wen Gifford, Hick's Other Majorly Known Character, Said in Lemonade Mouth, The Scene Where Stella Yamada(Hayley Kioko) Spit Mel's Lemonade on Ray Beech(Chris Brochu)
Ad blocker interference detected!
Wikia is a free-to-use site that makes money from advertising. We have a modified experience for viewers using ad blockers

Wikia is not accessible if you've made further modifications. Remove the custom ad blocker rule(s) and the page will load as expected.