Kojo recruits a Tiki Delgado, professional skater to compete against Zeke and Luther in a skating competition. But when Tiki turns out to be a jerk, Zeke and Luther encourage Kojo not to be pushed around by him anymore. Meanwhile, Luther is being haunted by a man-sized banana. Or as Luther calls it "The Manana".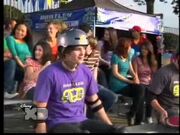 Ad blocker interference detected!
Wikia is a free-to-use site that makes money from advertising. We have a modified experience for viewers using ad blockers

Wikia is not accessible if you've made further modifications. Remove the custom ad blocker rule(s) and the page will load as expected.