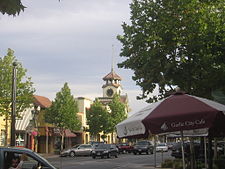 &nbsp
is the southernmost city in Santa Clara County, California, United States. The population was 48,821 at the 2010 census. Gilroy is well-known for its garlic crop and for the annual Gilroy Garlic Festival, featuring various garlicky foods, including garlic ice cream. Gilroy also produces mushrooms in considerable quantity. Gilroy's nickname is "Garlic Capital of the World," although Gilroy does not lead the world in garlic production. While garlic is grown in Gilroy, its nickname comes from the fact that Gilroy Foods processes more garlic than any other factory in the world; most pickled, minced, and powdered garlic come from Gilroy. Boutique wine production is a large part of Gilroy's western portion, mostly consisting of older family estates around the Mount Madonna state park mountain bases.
Approximately eight miles northeast of Gilroy, via Gilroy Hot Springs Road, lies the famous Victorian resort Gilroy Yamato Hot Springs, a California Historical Landmark. Gilroy also is home to the Gilroy Premium Outlets, a large shopping center consisting entirely of factory outlet stores.
Long-time local landmarks include Gilroy Gardens Family Theme Park, a specialty theme park, along California State Route 152, just west of town, and Mount Madonna County Park, at Hecker Pass, about twelve miles west of town, off Highway 152. Another large presence is the Gilroy Foods plant at the southeast edge of town.37°00′06″N 121°32′27″W / 37.00167°N 121.54083°W / 37.00167; -121.54083
Cattle, garlic, and strawberries occupy areas toward Hollister to the southeast and San Martin to the north.
The Disney XD show Zeke & Luther is set in Gilroy.
Ad blocker interference detected!
Wikia is a free-to-use site that makes money from advertising. We have a modified experience for viewers using ad blockers

Wikia is not accessible if you've made further modifications. Remove the custom ad blocker rule(s) and the page will load as expected.