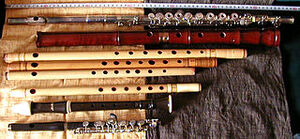 &nbsp

The flute is a musical instrument of the woodwind family. Unlike woodwind instruments with reeds, a flute is an aerophone or reedless wind instrument that produces its sound from the flow of air across an opening. According to the instrument classification of Hornbostel-Sachs, flutes are categorized as edge-blown aerophones.
A musician who plays the flute can be referred to as a flute player, a flautist, a flutist, or less commonly a fluter.
Aside from the voice, flutes are the earliest known musical instruments. A number of flutes dating to about 40,000 to 35,000 years ago have been found in the Swabian Alb region of Germany. These flutes demonstrate that a developed musical tradition existed from the earliest period of modern human presence in Europe.
Ad blocker interference detected!
Wikia is a free-to-use site that makes money from advertising. We have a modified experience for viewers using ad blockers

Wikia is not accessible if you've made further modifications. Remove the custom ad blocker rule(s) and the page will load as expected.